Sanibel Sea School is beyond grateful to have the Bailey Homestead as our special second location for summer camps, especially after Hurricane Ian devastated our main campus on the east end of the island in 2022. On this preserve, the historic Bailey home sits on a lush swath of SCCF land that features freshwater wetlands and interior ridges, creating a 19-acre wildlife corridor. 
During these camps, in true Sanibel Sea School fashion, we hop in our vans and head to the ocean for hands-on marine science fun.
Drop off and pick up occur at 1300 Periwinkle Way, Sanibel. We spend most of our time at the beach, but we use the Homestead to have lunch and cool off under a covered pavilion. It's the perfect camp setting with picturesque gardens to explore, a wide-open grassy lawn for playing games, and within walking distance of hiking trails through wild Sanibel.
We offer camps from June 12 - Aug. 25. Ages and pricing vary.
Priority registration opens at 10:00 AM on March 4. General registration opens at 12:00 PM on March 4.
Sea Squirts
For Little Explorers (Ages 4-6)
Sand dollars are near and dear to Sanibel Sea School's heart. We love to find them, watch them disappear under the sand, and feel their spines move across our palms. Join us on an epic adventure to the sandbar in search of these exciting echinoderms. We'll teach our tiniest campers how to spot one while snorkeling and even how to feel for them with our feet! Sand dollars are pretty on the outside, remarkable on the inside, and have you ever seen how fast those sand suckers can move? You can bet your sandy bottom dollar that this will be the best week yet!
When we ask our youngest campers to find their favorite shell on the beach, they often run straight towards the shiniest, most iridescent, rainbow-like surface glimmering in the sunlight: pen shells! So, we've decided to dedicate a whole week to these magnificent, shiny beauties. The trademark, dark iridescence that is so typical of the inner surface of pen shells is the nacreous layer or mother-of-pearl! Join us as we take a closer look at shells with our handy dandy microscopes, make shiny mosaics, and comb the beach for the most enormous pen shells we can find. This week will be loads of fun and a little learning for the smallest members of our Ocean Tribe.
Sea fans are a beautiful variety of coral that grows in a flat branching form creating mesmerizing patterns like veins on a leaf. Attached at their base, sea fans bend and sway in the ebb and flow of the rolling sea. Orange, purple, yellow, and red. Each tiny polyp sticks its feathery tentacles out to catch plankton floating by in the water. This week we're taking lessons from sea fans by slowing down, planting our feet in the sand, and enjoying the push and pull of the water. We'll do some slow flow and soul floats and use recycled nets to print their astonishing branching patterns on natural materials. If you're a big fan of the ocean, then this week is definitely for you!
Island Skills Camp
(Ages 6-13)
Our first week of camp honors the most playful mammals in the sea! And yes, we did it on porpoise… We want camp to start with the silliest games, team bonding, and camaraderie. What better animal to learn about than fun-loving, social bottlenose dolphins? This week each group will become a pod that will work together throughout the day to compete in feeding strategy games, obstacle courses, and team-building challenges. We'll seine net and snorkel while we keep our eyes peeled and our ears open for a real-life pod of dolphins cruising by. And, what would dolphin week be without a rousing game of an old Sanibel Sea School favorite, Capture the Fish?
More than 350 species seek shelter from predators and the elements in a burrow made by none other than the gopher tortoise. These quiet excavators spend their days munching on vegetation and digging burrows averaging 15 feet long and 6.5 feet deep! Without gopher tortoise burrows, many animals like burrowing owls, indigo snakes, rabbits, and gopher frogs would be left exposed, making gopher tortoises a keystone species. This week we're celebrating these tunneling reptiles and learning how we can help protect them. Get ready to explore their habitat for a closer look at our hometown heroes, experiment with burrow-building, and create coconut tortoise art. Of course, after all that hot work, we'll also need some surfing, splashing, and snorkeling.
Oysters are champions of water quality. An adult oyster can filter up to 50 gallons of water a day! Not only that, but these incredible bivalves form extensive reefs that provide habitat, buffer coastlines from wave energy, and provide food. This week we're putting our science caps on as we measure oyster growth and recruitment. We'll build vertical oyster gardens and watch spat, or baby oysters, appear. And how lucky for us that oysters also happen to create beautiful shells for ocean-inspired art projects. The world is our oyster this week, and we want you there.  
Calling all campers! Mangroves need our help after Hurricane Ian, so this week is dedicated to none other than the red mangrove. Known as "walking trees" by some and Rhizophora mangle to others, red mangroves have continuously growing prop roots and bright green canopies. Mangrove forests may be smelly, but they are great playgrounds, not only for young campers but also for juvenile fish and crabs that use them as nurseries. During intense storms, mangrove forests act as buffers, reducing wave action, preventing erosion, and absorbing floodwaters. But it comes at a cost, and Sanibel Sea School is here to help. This week we will assist with mangrove restoration and plant propagules with Coastal Watch! And, of course, we'll ride the tides and explore a little-known mangrove creek to appreciate the trees that feed the sea. It will be muddy, stinky, and salty – because that's how we like it at this sandy bucket school!
Unlike many tribes in North America, the Calusa were unique in that they built tools out of shells, houses atop giant mounds, and foraged on the seas for food. Instead of living off the land, they lived off the ocean. And you know what? That's what our mighty Sea Schoolers do too! We're going to live off the sea this week, just like every week of summer camp, but we'll do it Calusa-style and go primitive. We will eat off of plates that we weave ourselves, build shelters on the beach, and fish with only our hands and nets. You'll not want to miss this classic Sanibel Sea School camp. Step back in time with us; we'll go back thousands of years to when the Calusa ruled the coast.
Have you ever seen a sizeable round jelly with short stubby tentacles and a slightly pink clover pattern on the bell? Then chances are you've encountered a moon jelly! These gently pulsing zooplankton are so named for their translucent moon-like bell, and they have perhaps one of the prettiest scientific names around: Aurelia. Going through many phases of their own, jellies have a pretty extraordinary life cycle and what we see booping through the water is actually the end! Join us to learn about the phases of moon jellies and how they move through the water. Contrary to popular belief, jellies are one of the ocean's most efficient swimmers! We'll conduct plankton tows to catch a glimpse at other life stages of jellies under a microscope and experiment with buoyancy to find out how to best suspend ourselves in the water column. The games we play this week will be out of this world! We love summer camp to the moon jellies and back. See you soon!  
The Florida Horse Conch's Latin name is Triplofusus giganteus for a good reason – these snails are gigantic! They can grow up to 2 feet long, making them the largest snail in the Gulf of Mexico and the second-largest snail in the world! This brown and white shell has whimsical whorls and knobs that spiral around its shoulders. But don't let their beauty fool you; these orange-footed gastropods are voracious predators, capturing and mercilessly smothering prey like Lightning Whelks and Tulip snails. This week we'll play predator-prey games, snorkel Sanibel in search of Horse Conchs gliding along the sand, and take a closer look at their egg casings under a microscope. We'll compare juvenile shells to adults and learn about the gastropod lifecycle. Will we be lucky enough to find an empty shell to take home? Join us to find out!
There exists in the waters around Sanibel a very peculiar creature. Although it is a fish, it "walks" along the bottom, sensing mollusks, crustaceans, and worms. Their pectoral fins are fan-shaped and can be found in temperate seas worldwide in bright colors and ornate patterns. We are talking about sea robins, and if you haven't heard of them, you're in for a treat: they're some of the noisiest fish in the sea! This week we will explore sea robins' ability to growl, bark, grunt, and cluck. We'll experiment with our ability to make noise, create instruments, and use seine nets to catch one of these noisy bottom-dwellers. Let's grab our masks and snorkels, dip below the surface, and listen carefully – we might hear one bark… And get ready to be loud and proud this week because it'll be the last surf race of the summer!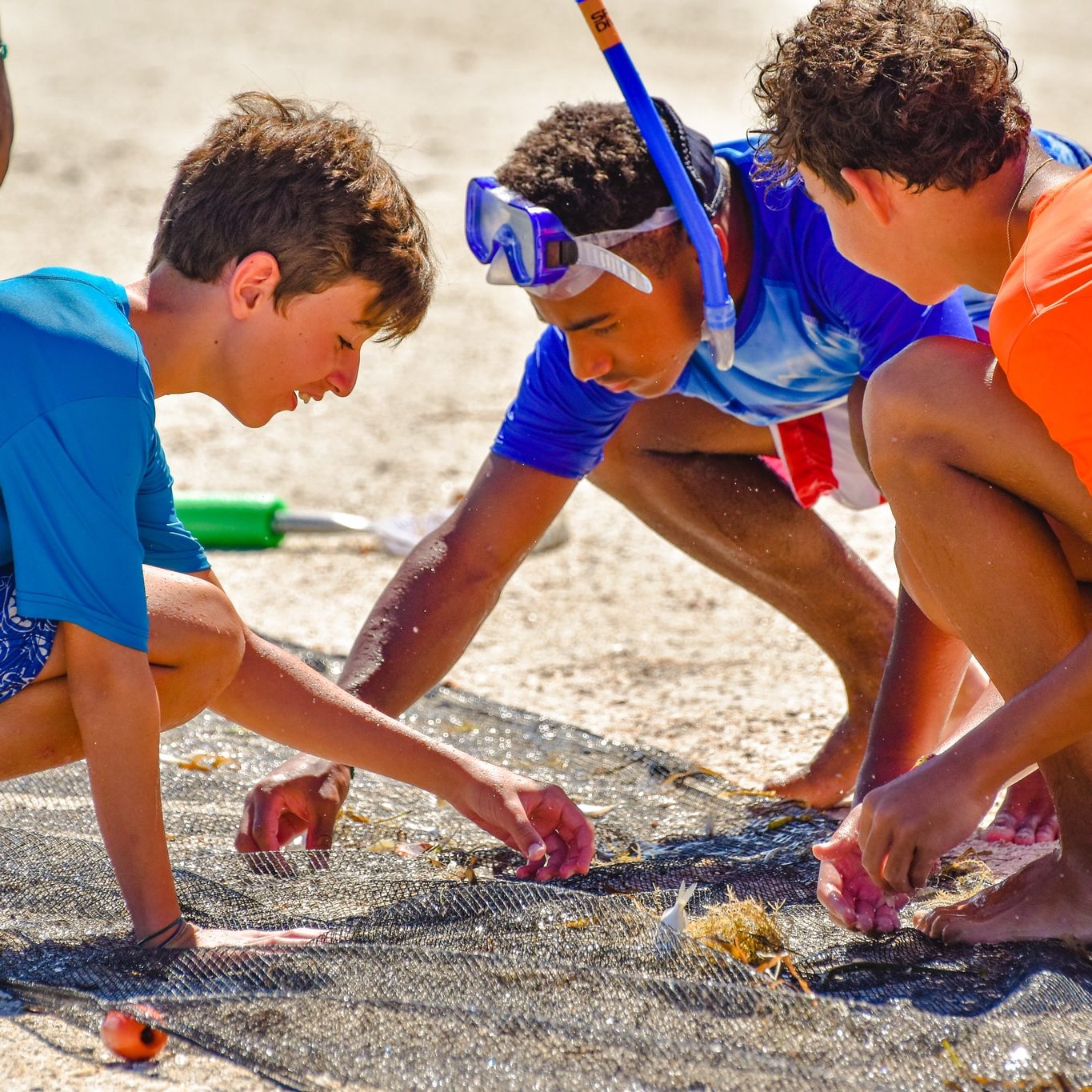 Ages 13 - 17
$265/week
Offered weekly. CITs arrive one hour before the start of camp and leave one hour after the camp day ends. CITs arrive at 7:30 AM on Mondays.
This program is designed to teach our older campers the skills needed for leadership and future employment. CITs are a vital link between our younger campers and the counselors in our programs. We teach our CITs how to be leaders and positive role models to those around them through theory and practice. We assign duties and create and maintain performance expectations for these young leaders. We treat them with gentleness, love, and respect but show them how to carry out the responsibilities they are now capable of and how to use their abilities to become excellent role models. All CITs will complete an online leadership training course before camp. On any given day, it is hard to tell who is having more fun, the campers or the CITs.
Some participants with prior CIT experience at Sanibel Sea School may be eligible to be a Senior CIT Click here for more information. 
9:00 AM - 4:00 PM
Ages 11 - 15
$450/week
People of all ages engage with nature through fishing. Some fish for fun, some fish to eat.  Some consider fishing an art, others a science. Regardless, fishing is much more than catching and conquering – it is about how we study, locate, handle, and safely engage with the fish we encounter. This week we will learn about fish, fishing gear, and techniques; we will walk and fish the beaches; we will get out on and in the water; we will learn to read the water to tell us where there might be fish. We'll don masks to see what fish we see. We'll have casting competitions. We may catch fish; we may not, but we will have fun and all be better equipped to enjoy a lifetime of this rewarding sport responsibly.
9:00 AM - 4:00 PM
Targeted to girls ages 13 - 17
$470/week (Includes First Aid/CPR Certification)
Wahine Toa is a Polynesian phrase that roughly translates to fierce ocean woman warrior. This week ten teens will become ocean women warriors in our female-led, girls-only camp. In this program, we'll learn paddleboarding and survival skills and gain confidence – girl power!  The girls will have to prove themselves worthy of the Wahine Toa title by completing paddling challenges, practicing urban and wilderness survival skills, and camping overnight on an uninhabited island. The young ladies will not only walk away from this camp CPR/First Aid certified but with unforgettable memories and a lasting bond between them that only Wahine Toa survivors will understand. 
*Includes an overnight camping trip from Thursday to Friday*
9:00 AM - 4:00 PM
Ages 13 - 17
$450/week
Would you have what it takes to survive if we sent you on your way with just a kayak and a compass? By the end of this week-long adventure to the lesser-known places on Sanibel, we promise you will. We'll leave no shell unturned and inspect every nook and cranny of the mangroves, and we're doing it by kayak! We'll master basic paddle strokes, tow those in need, and learn what to do if you flip your boat. The plan includes learning to use compasses, fire-starting contests, and shelter-building competitions. We will also learn basic first aid and figure out how to find food and water in the wilderness. At the end of the week, we'll camp out on a remote island to put what we've learned to the test, followed by an epic surprise quest planned for the last day. The conditions will be primitive, and the bugs will be many, but the memories made will be unforgettable.
*Includes an overnight camping trip from Thursday to Friday*  
July 10 – 14 AND July 17 – 21, overnight camping trips in the Florida Keys
$625/week
The Florida Keys National Marine Sanctuary is one of 14 sanctuaries in the nation, and we are lucky campers to be able to zip down and see sharks, eagle rays, goliath groupers, midnight parrotfish, pillar corals, mountainous corals, and the list goes on! Today, the sanctuary protects more than 2,900 square nautical miles of Florida Keys' coastal and ocean waters. For both weeks, we will camp in gender and age-segregated 8-person tents and head out on a snorkel boat each morning to study the reef. The afternoons will be spent conducting experiments and exploring snorkel spots from shore. It'll be a hot, glorious week of learning, snorkeling with good friends and soon-to-be good friends, campfires, and tent competitions.
July 10 - 14 (Ages 13 to 14)
Location: John Pennekamp Coral Reef State Park, Key Largo
Renowned for being the country's first undersea park, John Pennekamp encompasses an impressive 70 nautical square miles. This is our initial week of travel investigations to coral reef environments. We will focus on introducing camping and outdoor skills, successful living away from home, techniques for exploring new surroundings, basic coral reef species identification, basic snorkeling skills, and simple laboratory investigations. Next to our primitive campsite are nature trails through the tropical hammock, swimming at the beach, and the perfect bonfire pit. We will take a snorkel boat from John Pennekamp's marina, just a short walk from our campsite.
July 17 - 21 (Ages 15 to 17)
Location: Bahia Honda State Park, Bahia Honda Key
Along with its iconic Florida Keys scenery, sandy beaches, crystal-clear waters, and magnificent sunsets, this park is known for its balmy sea breezes that caress the shores year-round. This is a more advanced week. We will use and hone camping skills, learn and practice more intense snorkeling skills, dive deeper into identifying a more considerable diversity of coral reef critters, and conduct more extensive laboratory exercises. In general, we will ramp up the scientific components of learning about and describing coral reefs. We will snorkel with the state park operators.
9:00 AM - 4:00 PM
Ages 13 - 15
$450/week
So, you want to be a biologist, huh? You know it's not all it's dreamt up to be – getting dirty, doing hot and sweaty fieldwork, and finding ways to catch creatures… wait, that IS fun! Join Sanibel Sea School this week to learn what it takes to be a biologist. From digging in the mud in a mangrove forest to surveying shorebirds on the coast to combing the early morning beaches in search of sea turtle nests or water sampling and oyster measuring – we'll do it all, and so much more! We will work alongside SCCF's scientists to analyze and gather data, get hands-on experience in field techniques and research methods, and learn how to communicate results to various audiences. Get ready to get your feet wet, hands dirty, and minds blown as we discover what a day in the life of an SCCF biologist is really like.