Florida's reef tract is the third largest in the world, stretching 350 miles from the Dry Tortuga's to the St. Lucie Inlet. The Florida Keys National Marine Sanctuary (FKNMS) protects over 3,800 square miles of reef, mangrove islands, and over 6,000 species of marine life. It's one of 14 marine protected areas in the U.S., and we are lucky to be able to zip down to see sharks, eagle rays, goliath groupers, midnight parrotfish, pillar corals, mountainous corals, and the list goes on!
We will camp in tents and head out on a snorkel boat each morning to study the reef. The afternoons will be spent working on labs and adventuring to find snorkel spots from shore. However, this expedition to a coral reef environment is designed to do more than teach facts and have an away-from-home experience. We also want you to have fun and gain valuable camping and wilderness survival skills. This week will hone in on outdoor skills, exploration, and species identification. We also want you to improve your skills in the water, learn to control your buoyancy and become a better observer of the ocean.
Some of the questions you might ponder include:
How are coral reefs and seagrass communities connected?

We are just 80 miles from Sanibel, so why don't we have coral reefs there?

Where do corals get their vibrant colors?

How might outdoor skills benefit me in the future?

How might reefs change in my lifetime?
Throughout the week, we will have two groups - tent groups & day groups. You will find out your groups on the bus ride down to the keys. When we arrive at the campsite, the epic Tent Cup begins! It is an ongoing competition throughout the entire week. Together, with your tent, you will compete in different games and activities each night to win points. You can also accumulate points throughout the day for good behavior or lose points for poor behavior. Staff will always give spontaneous opportunities to win points in addition to our traditional Tent Cup games. Who will be this year's tent cup champion…?
Florida is the only state in the continental United States with extensive shallow coral reef formations near its coasts. Florida's Coral Reef stretches approximately 360 linear miles from Dry Tortugas National Park west of the Florida Keys to the St. Lucie Inlet in Martin County. Roughly two-thirds of Florida's Coral Reef lies within Biscayne National Park and the Florida Keys National Marine Sanctuary, a marine protected area that surrounds the Florida Keys island chain. The reefs stretching north of Biscayne National Park and the marine sanctuary are managed by the Florida Department of Environmental Protection's Coral Reef Conservation Program (CRCP) with insight from the Southeast Florida Coral Reef Initiative, which is one of several programs administered by the CRCP.
Florida's Coral Reef began 10,000 years ago when sea levels rose following the last Ice Age. Reef growth is relatively slow; individual colonies grow only one-half inch to seven inches yearly, depending on the species. The three major types of coral reefs worldwide are atolls, fringing reefs, and barrier reefs. Florida's Coral Reef most closely resembles a barrier reef; however, the reefs are closer to shore and lack the shallow inshore lagoons found on most barrier reefs. For this reason, Florida's Coral Reef is more aptly referred to as a barrier bank reef. Florida also has patch reefs, which grow in shallower water between the reef and the land. Patch reefs are typically small (the size of a backyard or a small home).
Week 1: John Pennekamp Coral Reef State Park, Key Largo FL
If you're going to Coral Reef Week 2 - Scroll to the next section!
Key Largo is an island in the upper Florida Keys archipelago and is the largest section of the Keys, 33 miles (53 km) long. It is one of the northernmost of the Florida Keys in Monroe County. It is situated between Everglades National Park to the northwest and John Pennekamp Coral Reef State Park to the east, the first underwater park in the United States.
We will be camping at John Pennekamp Coral Reef State Park. Established in 1963, it was the first undersea park in the United States. It extends three miles into the Atlantic Ocean and is about 25 miles long. The park was established to protect and preserve a portion of the Florida reef tract. The park was named after John D. Pennekamp, a Miami newspaper editor. He contributed to the establishment of the Everglades National Park and what would become John Pennekamp State Park. The park contains diverse tropical vegetation, shorebirds, and marine life. It is home to mangrove swamps, tropical hammocks, and living coral reef tract
Here's a map of the park, we'll be at the group campsite!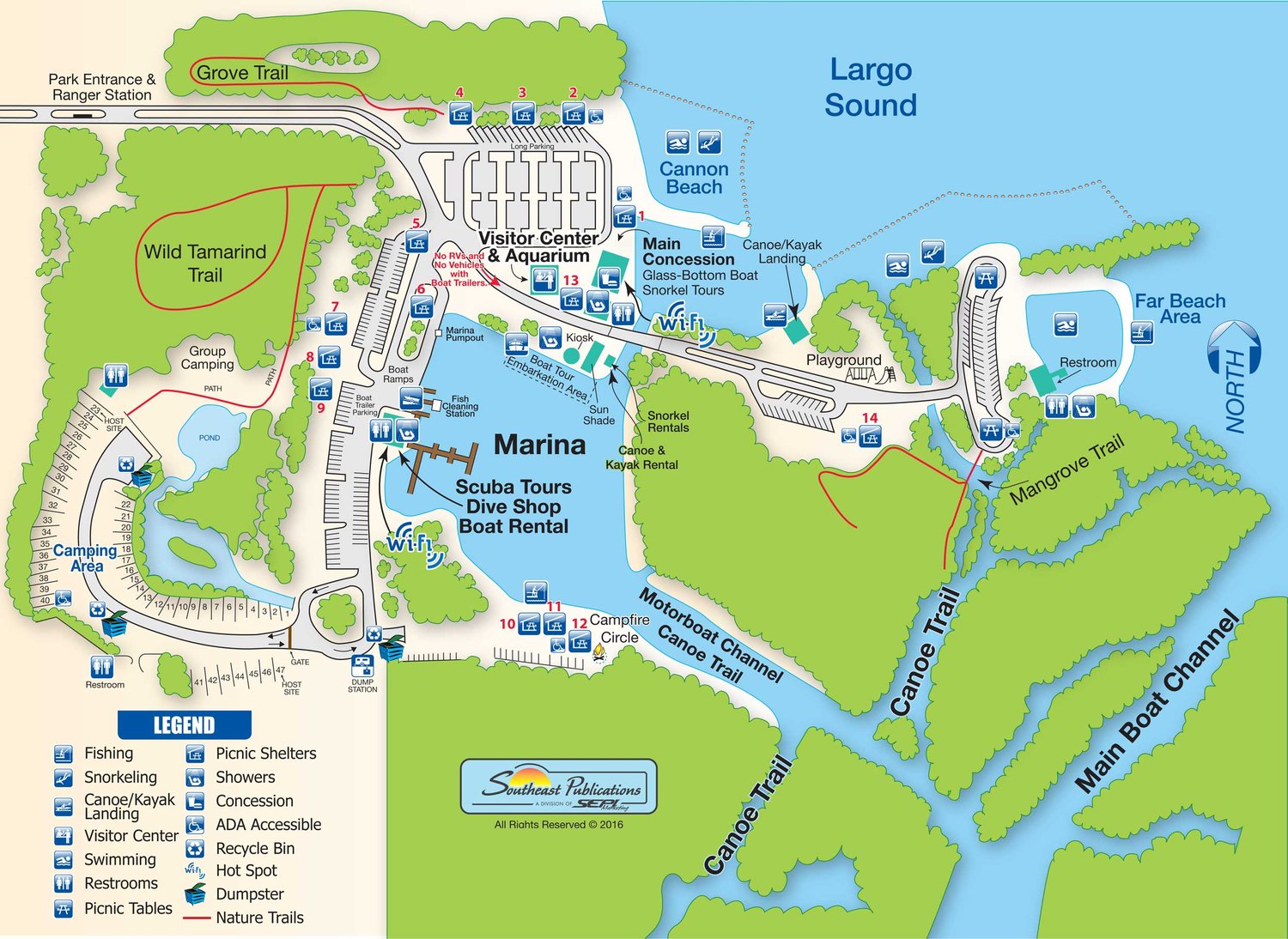 The waters off Key Largo are home to some of the nation's finest coral reefs. Known for stands of elkhorn and large mounds of star and brain corals, these reefs have been an example of marine protected areas for decades.
When the Florida Keys National Marine Sanctuary's regulations were implemented in 1997, the Key Largo National Marine Sanctuary was re-designated as a 103 square nautical mile Existing Management Area. With this new status came added conservation measures by creating six Sanctuary Preservation Areas spanning from Carysfort South to Molasses Reef.
We will take a snorkel boat from the park's marina to visit these preservation areas!
Week 2: Bahia Honda State Park
If you're going on Coral Reef Week 1, skip to the next section!
Bahia Honda, meaning deep bay, in Spanish, is an island in the lower Florida Keys. U.S. 1 (the Overseas Highway) crosses the key at approximately mile markers 36-38.5, between Ohio Key and Spanish Harbor Key 12 miles (19 km) west of Marathon, close to the west end of the Seven Mile Bridge.
The island is virtually uninhabited, home to the 524-acre Bahia Honda State Park. Founded in 1961, the park occupies most of the island. The channel at the island's west end is one of the deepest natural channels in the Florida Keys.
We will be camping on the bayside at the Buttonwood campsites!
Looe Key Sanctuary Preservation Area (SPA) is located approximately 5.5 nautical miles south of Ramrod Key and about eight nautical miles southwest of Bahia Honda State Park. A diversity of fish congregate here – parrots and surgeonfish on the north side; barracudas and jacks on top of the reef; grunts, butterflyfish, and angelfish on the reef crest.
Looe Key SPA is located within the Looe Key Existing Management Area, and nearby the Looe Key Research Only Area. It is a popular dive destination for new and experienced divers alike.
We will head out on a snorkel boat each morning form the park to visit different parts of Looe Key!
Sanibel Sea School has one rule and three goals. Our rule is to be kind: to each other, ourselves, and nature. Our three goals are to be safe, have fun, and learn something.
Our priority is safety. We will discuss additional rules related to our campsite once we are all together, but everyone needs to remember that we will live and work in an environment with many dangers. It is important always to keep safety in mind throughout the trip.
You can leave the tent sites to use the bathroom or explore with permission. You will be assigned a tent leader and a day group leader at the beginning of the week. You must notify one of these full-time staff members before leaving our campsite. Without a lifeguard, you cannot go to the water or the beach!
You may be allowed to go to the store during your stay; when (and if) you will be at your leader's discretion and under direct supervision. This is usually a prize for good behavior at the end of the week… hint hint.
We will always snorkel in buddy pairs (sometimes a 'pair' comprises three people). You should always know where your buddy is while you are in the water. Your buddy group should always know where your snorkel leader is.
Try to be as efficient as possible. We float in salt water. Minimize your fin kicks when you are waiting for someone or just hanging out. Kicking tends to make you sink more, exerting more energy than needed. Just float on your belly and put your face in the water, breathing through your snorkel, open your arms, and look. Snorkeling allows you to be immersed in the marine world and become an unobtrusive observer. Excessive kicking tends to scare animals away.
Mask fogging makes it hard to see. You can minimize mask fogging with toothpaste, defog, or even spit. Using your medium of choice, put it in your mask and rub every area of the glass very carefully, then rinse it once with salt water and put the mask on your face. Try not to remove your mask until you are through with your dive. Placing your mask on your forehead makes your mask fog – and it is a sign of a distressed snorkeler; if you must remove your mask, pull it down over your neck like a necklace.
If you want to practice diving deeper than the surface, please let your dive leader know; they will ensure it is an appropriate area. To descend below the surface, we must equalize the pressure in our ears. It is a pretty easy thing to do, known as a Valsalva maneuver. Squeeze your nose and try to blow through your nostrils gently. This is why masks have a separate area for your nose. You will usually hear your ears 'pop' when the pressure is equalized. You do this as you are swimming downward in the water. If your ears don't equalize, don't try to push them too hard; you can rupture your eardrum – not fun. Always try to be aware of your body.
Good snorkeling practices include:
Never touching the reef! Do not stand on or kick the coral.

Although it is sometimes hard to do, try not to kick your snorkeling companions or kick up excessive sediments in shallow areas.

We will be in the Florida Keys National Marine Sanctuary – no one is allowed to take ANYTHING from within the sanctuary boundary. "Look but don't touch" is the rule.
This video is an excellent tutorial with good information. One thing to note, though, is that we recommend a snorkel without a valve (like the yellow one he shows first). The valves are great but often fail if even a little sand gets in them. If you already have one of these styles, don't worry about replacing it! We'll have plenty of extra snorkel if you need it during the week.
Don't pitch your tent in a low area; if it rains, it will flood.

Orient your tent to catch a good cross-breeze.

Put a tarp down before setting up the tent.

Always keep your tent door zipped and screens closed to help keep the bugs out.

Remember that bugs are attracted to light – turn your light off when entering and exiting the tent.

Put down a towel at the tent entrance to wipe your feet; this will help keep the sand out.

NO food in your tent, so it will not attract animals.
Remember that we are living with many people in a small space. One of the keys to successful camping is to be organized! Second, always plan on it raining at any time during camp because it most likely will. Anything left outside will be rained on and become wet and potentially lost.
Hang a clothesline to dry wet things; this can be easily accomplished by tying a bowline on one end and a trucker's hitch on the other.

Keep your belongings stowed neatly when not using them; this will reduce clutter and make it easier to find things when needed.

Help keep the campsite clean by picking up any trash you see and ensuring things are returned to their proper place after use.

Clean gear, dishes, and personal belongings immediately after use to be ready when needed.

When washing dishes, use a scrubbing and rinsing bucket to save water.

Try using a flashlight or lantern at night as little as possible. Our night vision is pretty good, and we typically don't need light to see. If you have the option, use the red light on a headlamp or flashlight.
We will have three meals a day and snacks. A tent group will be assigned "Kitchen Patrol (KP) Duty" for each meal. This means assisting with cooking, washing, drying, and putting away all dishes used. KP should be done quickly and efficiently under the supervision of your tent leader. We must all work as a team to keep our campsite functioning.
Learning how to identify creatures is important for research and wilderness survival. It is always important to be familiar with and aware of your surroundings. This section will help you familiarize yourself with common fish, inverts, and corals we may see in the Florida Keys. Some of them will be our study subjects for our labs!