Sanibel Sea School After School Island Scavenger Hunts Add Excitement to Learning
February 9, 2022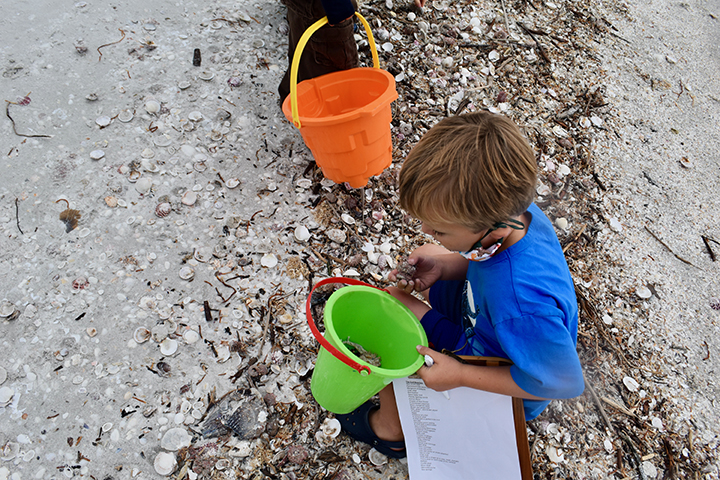 On Jan. 25, students joined marine science educator Joey Garofano, for one of Sanibel Sea School's After School Island Scavenger Hunts. These special island-themed scavenger hunts are filled with interesting clues, fun challenges, teambuilding, and island exploration. They are designed to focus on four barrier island habitats—marsh, bay, Gulf beaches, and mangrove forest.
Garofano's scavenger hunt was designed for the Gulf beaches. Cold, windy days have resulted in exciting finds washing ashore—shells, sea urchin tests (outer skeleton), egg cases, mermaid's purses, crab exoskeletons, sponges, and more! Students had a list of 43 items to try to find over the course of two hours—and some required solving a clue before knowing what they would be seeking.
"The students' excitement increased with each step to the beach as they all started to strategize how to find all the items on their list," Garofano said. "The first items found were crab claws and fish bones that they could smell long before they could see them. Some students asked if the smell was me. I sure hoped it was a joke." Students started off competing in two teams but eventually came together to search for remaining items on the list. They ultimately found more than 30 of the items, including a hermit crab, a shell with a perfect hole in it (evidence of a moon snail), a sand cast from a lugworm, and a Florida fighting conch.
Sanibel Sea School will continue to offer after school courses through May. Topics include surfing and seining. After school courses are for ages 6 to 13 and $20 per participant. Learn more and register at https://www.sanibelseaschool.org/afterschool.
Part of the SCCF (Sanibel-Captiva Conservation Foundation) Family, Sanibel Sea School's mission is to improve the ocean's future, one person at a time.