Welcome Sanibel Sea School Interns!
July 27, 2020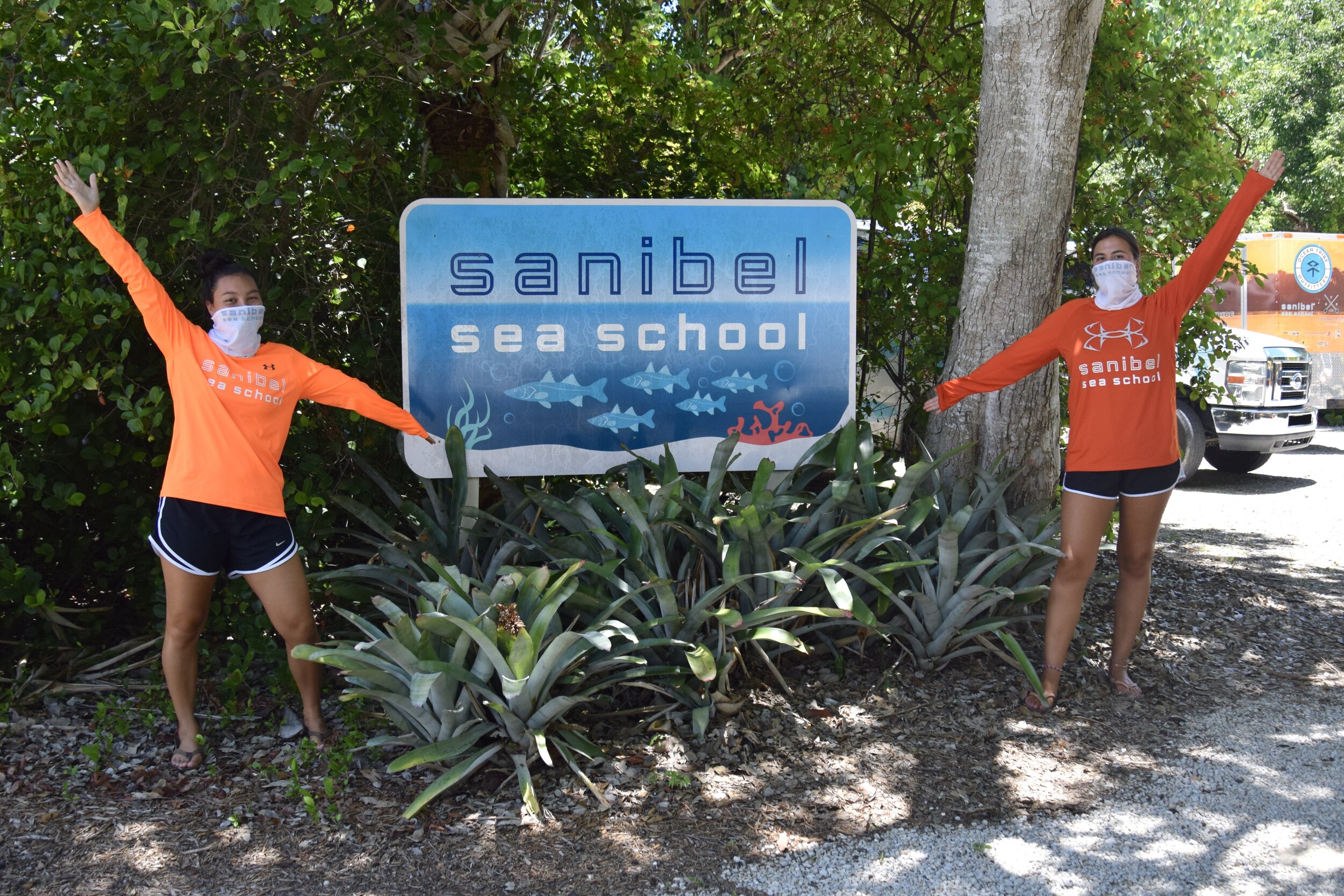 Sanibel Sea School welcomed two seasonal interns earlier this summer to help with educational programming and administrative work.
Originally slated as summer camp counselors, Abby Hendershot and Mary Buerer are now working as education interns through August this summer. The cancellation of Sanibel Sea School's summer camps slightly changed the course for the two interns but this has not halted their passion for working with kids and the ocean.
Both interns are working with the Sanibel Sea School team to deliver marine science education during the programming offered this summer. Both are environmental advocates and enjoy inspiring others to care for our oceans and planet.
Abby and Mary are excited about learning new things each day. Though their summer camp counselor positions were modified, they are now able to broaden their experience and learn all that goes in to working with a nonprofit. The interns now help with day classes, answer phones and help clients, and also assist with keeping the grounds tidy.
One of the highlights of their internship is the opportunity to create a new lesson to add to Sanibel Sea School's repertoire of courses. When they aren't working around campus or out teaching, Abby and Mary spend time lesson planning for their new course, which includes a lesson, field activity, and art project. At the end of their internship, they will have the opportunity to teach their course to a group of students.
Here is the full interview:
Abby Hendershot
What are your future college plans?
I will be attending Florida Gulf Coast University this fall and I will be majoring in Marine Science. I also plan to be involved with club swimming, club water polo, and Campus Naturalists.
Tell me a little more about your swimming background.
I started swimming competitively with a local Columbus team when I was 8 years old. Throughout my high school career, I dreamed of swimming collegiately. Last year, I discovered that I had a shoulder injury. I decided to switch teams and go through physical therapy for my injury. I had a successful season of rebuilding strength and inching closer to my time goals. I had arguably the best season yet. I made so many new friends and my mindset improved greatly. Earlier this summer, I learned that I will not be able to swim varsity due to budget cuts within the NCAA and an already full roster. This was ultimately for the best, as my schedule will be more flexible. I will be swimming for the swim club this year and I hope to compete and make it to College Club Swimming Nationals.
What has been the best part of your experience with us so far?
I have really enjoyed the variety of work that I am doing! Normally, I would volunteer at camp for a week during my vacation. I like doing little projects that involve art and design around campus. I also enjoy assisting with classes and being able to share my passion for the ocean with students. It reminds me of how I got started with sea school when I was a kid, and the importance of ocean education.
Even though you were unable to be a counselor this summer due to the cancellation of summer camps, what do you look forward to coming to work everyday?
I look forward to the uncertainty of what I will be doing. I love the rush of adrenaline when I am told that I will be helping out with a class on short notice. On the contrary, I do like structure in my life and I like coming into work knowing what needs to be done. We have a weekly schedule of when we are scheduled for classes and when we are helping with other projects. I also enjoy taking pictures for sea school! Normally there is a camp photographer, but without camp it is nice to snap some pictures of what goes on daily at Sanibel Sea School.
What have you learned so far?
At Sanibel Sea School, I really do learn something new every day. It could range from a creature identification all the way to how to use a pressure washer. The best thing that I have learned so far is to be flexible in many ways. My day can be fairly unpredictable based on how many kids sign up for a class, what is the weather like, what needs done around campus and so on. I normally like to stick to structure, but I've learned to let go of the structure and go with the flow. I have also continued to learn to be uncomfortable. Sea school is all about getting out of your comfort zone (safely) and trying something new.
What made you want to work at Sanibel Sea School this summer?
I grew up coming to sea school and it sparked my passion for marine science. I started as a day class student at the South Seas Island Resort campus in 2010. I absolutely loved it. Eventually, I aged out of the day classes and started staying at Sundial. I began helping out with classes, and then CITing at summer camp during my summer vacation. I moved up the ranks to a Senior CIT for the past few summers. I love sea school's mission and vision and I wanted to continue to be a part of the organization. It's hard to spread ocean love in Columbus, Ohio, but the chance to work at sea school helps me spread ocean love and hopefully inspire the next generation to love and care about the ocean.
Mary Buerer
Where did you go to college and what did you study?
I earned a bachelor's degree in Environmental Policy from Loyola University of Chicago. During my time there, I took a variety of classes that helped me gain an understanding of the rules and regulations surrounding land use development and promoting a sustainable environment through conservation efforts and energy use. One of my favorite courses I took was an energy research course with the goal of building an anaerobic digester to convert organic waste into biogas on Loyola's campus.
What are your future career plans/dreams?
My future career plans are up in the air at the moment. While I was in college, I was very interested in pursuing a career involving renewable energy. However, in my time so far at Sanibel Sea School, a type of environmental education job has become more compelling. Although I don't have a set career path yet, my dream career will always include in some way making the environment better.
What has been the best part of your experience with us so far?
My favorite part of this summer is when I am able to help out with the daily classes. I love getting to spend time with the kids, as well as learn along with them about the topics of each class. I am from Cary, a northwest suburb of Chicago, so another fantastic part of my experience is having the privilege of working every day on beautiful Sanibel Island.
Even though you were unable to be a counselor this summer due to the cancellation of summer camps, what do you look forward to coming to work every day?
As cheesy as I know it sounds, I look forward to what each day may bring. The thrill of never knowing what sea creatures you might see that day on the beach or what project is going to get started that day is exciting. I look forward to coming to this work environment in general. It is so inspiring and uplifting to get to be around everyone that works here who genuinely care about their work and ocean conservation.
What have you learned so far?
Every day I come into work I learn way more than a few things. I have learned a ton about the different creatures, plants, and shells that occupy Sanibel's beaches. Each time we catch a different sea creature, I get to learn about all its characteristics which has been so fascinating.
What made you want to work at Sanibel Sea School this summer?
The past two summers prior to this summer, I worked as a camp counselor at a summer camp back home in Illinois and I loved it. My mother recently moved to Cape Coral, and I began to search for jobs near her. I came across Sanibel Sea School, and the idea of combining getting to work with children and environmental & ocean conservation together was so awesome I knew I had to apply here!