On Island x Sanibel Sea School: An Interview with Kate Sergeant
March 12, 2019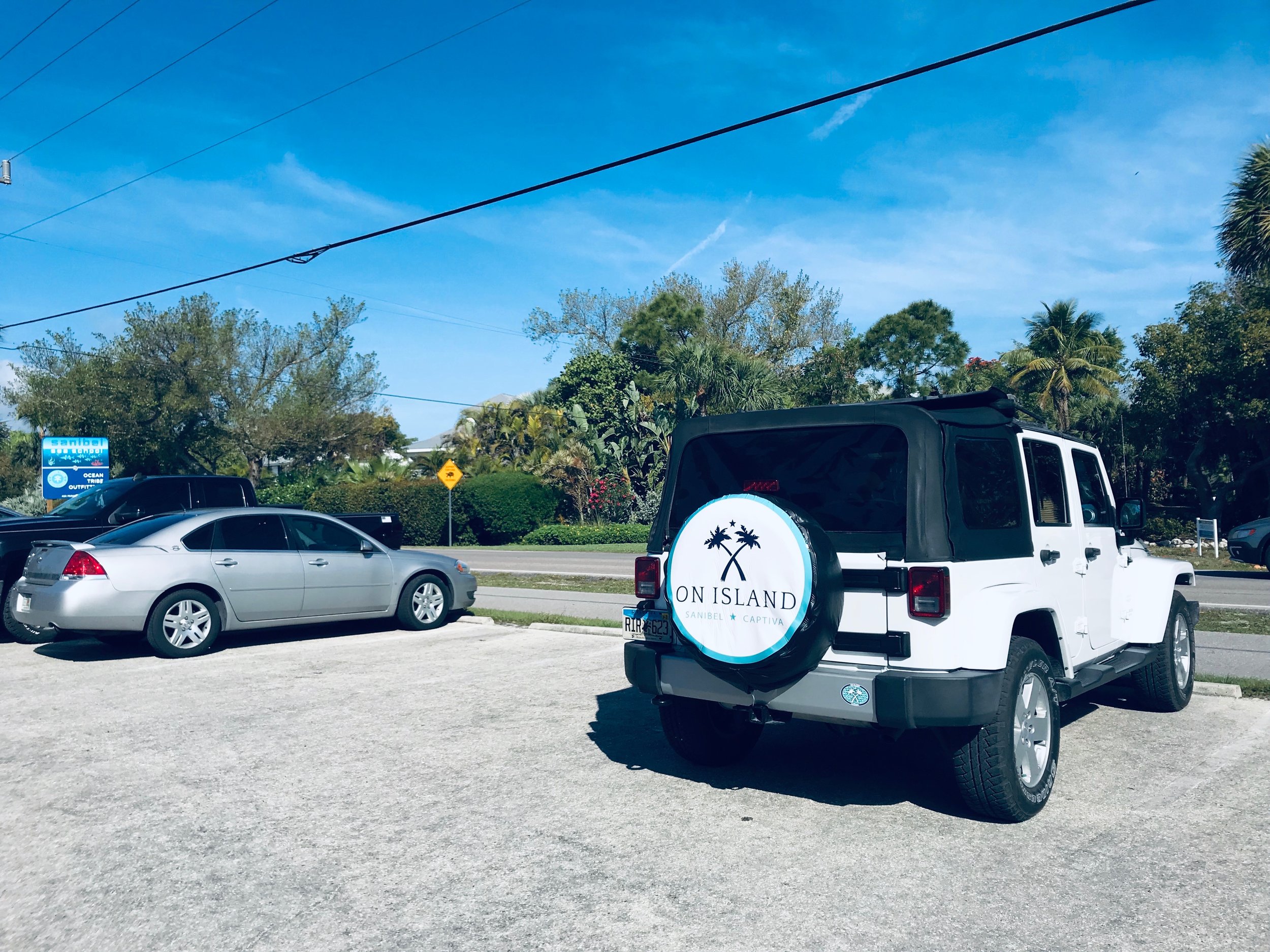 You've probably seen Kate Sergeant cruising around Sanibel in her Jeep Wrangler with the On Island Sanibel logo on her spare tire cover. It's an emblem that has become familiar to islanders in the years since she opened her t-shirt shop, which is known for its attractive, modern designs and attention to quality and detail. But what you might not know is how passionate she is about supporting our community through a variety of side projects, including a new collaboration with Sanibel Sea School. We sat down with Kate to learn more about her business, philosophy, and interest in conservation.
Tell us about On Island. What inspired you to start it, and what does it offer?
I grew up visiting Sanibel and Captiva, and when my family was able to move here in 2011, it was a dream come true. During my time away from the islands, I was always looking for ways to feel connected, especially in grey, cold Chicago. That's what On Island is all about – helping everyone stay connected to the islands, no matter where they are. We opened our doors in 2016, and I originally ran the business with a friend, but now I run it with my mom. We sell great branded apparel and island gear in our store, but we also have an app and a website offering news, updates, and tips from locals, as well as an island-inspired radio station.
There are lots of t-shirts for sale on Sanibel and Captiva. What makes On Island a unique shopping destination?
When I used to vacation here, I was always looking for nice shirts, totes, and other souvenirs to remind me of this beautiful place, but I never found exactly what I was looking for. I realized a need for higher quality items that people could really appreciate and enjoy in terms of quality, material, and design. I think I know my audience because I have been that person before, and that helps me provide something different and special. I have also learned so much about vendors, fabrics, and the design process through trial and error, and I try to apply that knowledge thoughtfully when I create my products.
You obviously have an eye for design. Where do you think that comes from?
Well, I'm a lawyer with no formal training in that area, but I know what I like when I see it. My dad and grandmother were both very artistic, so maybe I have a few of those genes as well. I'm just using them a little differently.
You have a flagship store in the Olde Sanibel Shoppes, but you've also started collaborating with some fellow island businesses. We want to know more about that.
Our first collaboration was with the Bubble Room. They needed help designing a souvenir t-shirt, and because of their famous desserts, a Julia Child quote immediately came to mind – "A party without cake is just a meeting." We put that on the front, with a list of their best-selling cakes on the back. The shirt is still a favorite among diners. I'm currently designing a shirt for The Clam Shack and we have started partnering with some of the local conservation nonprofits as well.
How did the nonprofit partnerships develop?
I've been a supporter of the SCCF sea turtle program for a long time – I used to walk the beach for SCCF and I appreciate their work. Lots of guests come in and out of our store, so I saw an opportunity for education. We set up an "awareness table" and featured SCCF's Sea Turtle Research Program. We have educational materials, a donation jar, and a limited edition t-shirt and hat for sale to support the project.
Sanibel Sea School also asked me to collaborate on a commemorative t-shirt for their first annual Flip Flop Family Scavenger Hunt last year, which was fun.
Next, I am going to feature J.N. "Ding" Darling Wildlife Society's land acquisition efforts on the awareness table, along with a special Sanibel Sea School shirt that will be available at the end of March.
People loved the Flip Flop Family Scavenger Hunt shirts.
You also recently helped Sanibel Sea School breathe some new life into our Ocean Tribe Outfitters shop by working with us on our designs and sourcing – we are so excited about the new products. Tell us about the On Island x Sanibel Sea School items shoppers can expect to find when they visit us.
The Ocean Tribe Outfitters logo is great, so it was fun to add it to everything from super soft tri-blend cotton hoodies to insulated, boat-friendly beverage containers. There are also long sleeve performance tees, sueded cotton t-shirts, tank tops and mesh back hats. Some feature ocean-inspired designs in addition to the logo.
Thank you so much – we are so grateful for your willingness to share your time and expertise with us and we can't wait to share the new products with our clients. Where can they learn more about the On Island app and the Local Guide by Locals?
Visit onislandsanibel.com to find our Local Guide by Locals, island news stories, our radio station, our online store, and more. You can download the On Island app on your smartphone – just search for it the same way you would for any other app. You can also follow us on Facebook and Instagram to get your (almost) daily dose of beach and island pictures.